Sicilian Genealogy and Heraldry
In Sicilian genealogy, a generation by generation lineage to the Late Middle Ages isn't unusual. This long-awaited, definitive guide shows you how to do it.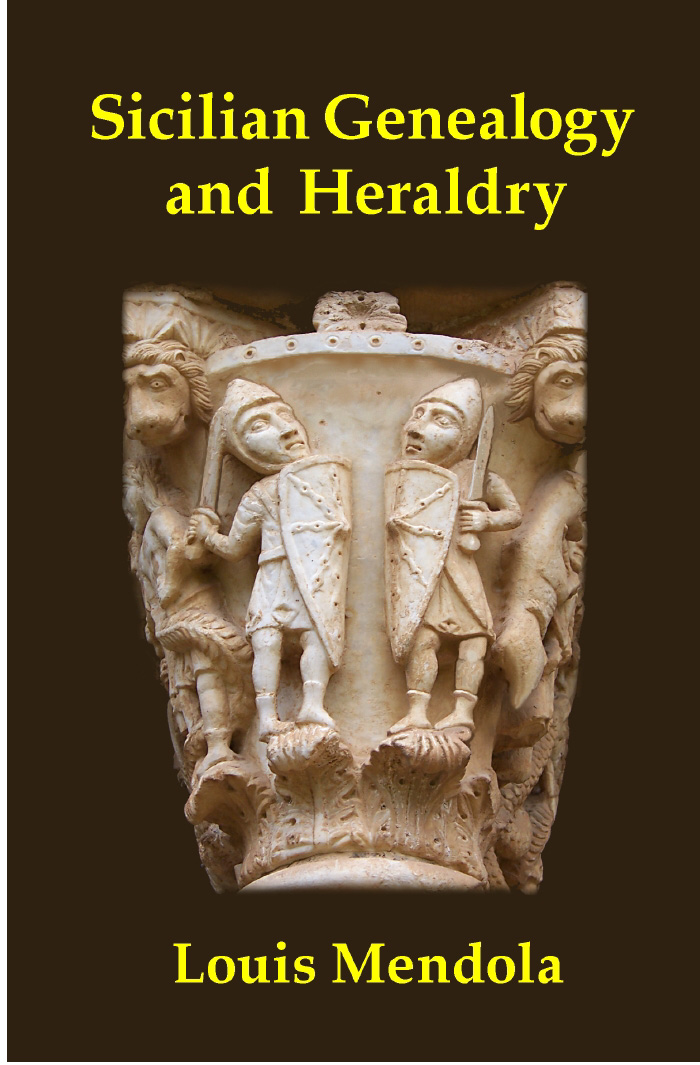 Sicily boasts the world's best genealogical records, revealing the deep roots of a Sicilian identity and facilitating the construction of many pedigrees into the fifteenth century. Based on the author's thirty years of experience as a foremost expert in the field, this is the first complete guide ever published in English dedicated exclusively to Sicilian genealogical research. Its publication in 2013 established a new subject category in the Dewey catalogue, and it is the reference book consulted by professional genealogists researching Sicilian families.
Back in the 1990s, Mendola was the man the Order of Malta, the world's oldest order of chivalry, sent into the Italian hinterland to inspect the accuracy of pedigrees submitted as proof of nobility – and he debunked as many as he approved. It comes as no surprise that a copy of this book sits in the order's library on the Via Condotti in Rome.
Topics range from parochial, civil and feudal records to DNA haplotyping, religion, rural life, cuisine, ethnography, coats of arms, surname origins and Jewish genealogy, with insightful, accurate information on historiography and research strategies – a few published here for the first time.
With scientific rigor and disarming candor, "the Indiana Jones of Italian history" shows you how to "push the envelope" of your family history research into Sicily's multicultural medieval era. Family history is more than names, dates and pedigrees; it is the people and culture behind the names. Social context is not overlooked. If there were ever a handbook on Sicilian ethnology, this would be it.
This book covers a wide range of topics in detail, transcending conventional strategies to explain the "how and why" of historical research: shortcuts and methods as well as advice on pitfalls to avoid. As a serious guide for dedicated researchers, it presumes some familiarity with basic genealogy, recommending introductory books to complement what one reads in this one, so don't expect photographs of vital statistics records and other documents. But even for family historians at the beginning of their research, this book is an excellent consultative reference.
It brings to life an arcane, often elusive, field. Significantly, the author destroys a few myths about Italian family history, and about Italy itself, while describing real social history. Especially impressive is his refreshingly distinctive writing style, with blunt reality checks sprinkled throughout the lengthier chapters. That's the kind of pragmatism missing from many genealogical guides.
While the chapters on the aristocracy and heraldry may interest fewer readers than those on simple lineal research, they are useful because most pedigrees before 1400 focus on the nobility.
By his own admission, Mendola's tone is at times sardonic, as if this elder statesman were scolding the field's less disciplined historians while setting the stage for its beginners. Just when you think that his treatment of a particular topic has become tiresome or excessively dry and theoretical, he inserts a concrete example to make his point. It's an effective technique.
In his assaults on the machinations of historical revisionists and genealogical fabulists, along with fake royalty and others who manipulate history for their own edification, the author takes no prisoners. Like Verres, the Roman governor of Sicily who fled into voluntary exile following Cicero's opening speech at his trial for corruption, genealogy's fantasists should flee the moment Lou Mendola enters the fray. In fact, quite a few have, as the author has been consulted over the years by journalists, law-enforcement authorities and others seeking to expose genealogy's identity tricksters.
His role is not unlike that of a lone sheriff protecting a town or, for European traditionalists, the last knight defending a castle. He is one of Italy's most cosmopolitan historians, consulted by The History Channel, the Vatican, the Almanach de Gotha and the BBC.
This is a reference work written by a highly knowledgeable, freethinking scholar, albeit one with close connections to Europe's traditionalist Establishment. The comparison to Indiana Jones, or even Rambo (!), is not inappropriate, except perhaps for Mendola's blue eyes. If you're a researcher, consulting this useful reference is like having an experienced, heavily-armed warrior escort you through jungles and mine fields to find The Truth on the other side.
Not to worry. You'll get there. And when you do, your ancestors will be waiting to meet you.
Home Page
© 2015-2018 Louis Mendola